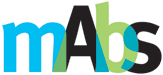 The Antibody Society is pleased and proud to be affiliated with mAbs, a multi-disciplinary journal dedicated to advancing the art and science of antibody research and development. We hope you enjoy these summaries based on the abstracts of the most read papers published in a recent issue. All the articles are open access; PDFs can be downloaded by following the links below.
Issue 10.6 (Aug/Sep 2018)
Antigen recognition by single-domain antibodies: structural latitudes and constraints. In this new review, Henry and MacKenzie comprehensively surveyed the evidence in support of the hypothesis that sdAbs may adopt paratope structures that predispose them to preferential recognition of recessed protein epitopes, but poor or non-recognition of protuberant epitopes and small molecules. They found some support for a global structural difference in the paratope shapes of sdAbs compared with those of conventional antibodies. Comparison of X-ray crystal structures of sdAbs and conventional antibodies in complex with cognate antigens showed that sdAbs and conventional antibodies bury similar solvent-exposed surface areas on proteins and form similar types of non-covalent interactions, although these are more concentrated in the compact sdAb paratope. Thus, the authors conclude that sdAbs likely have privileged access to distinct antigenic regions on proteins, but only owing to their small molecular size and not to general differences in molecular recognition mechanism. The evidence surrounding the purported inability of sdAbs to bind small molecules was less clear. The available data provide a structural framework for understanding the evolutionary emergence and function of autonomous heavy chain-only antibodies.
Biosimilars in oncology and inflammatory diseases: current and future considerations for clinicians in Latin America. Scheinberg et al. review the use of biosimilars in Latin America, which is complicated by the presence of "non-comparable biotherapeutics" (also known as "intended copies") that have not been rigorously compared with the originator product. The authors discuss the current situation and the considerations for clinicians in Latin American countries, focusing on monoclonal antibody biosimilars relevant to oncology, rheumatology, gastroenterology, and dermatology.
Homology modeling and structure-based design improve hydrophobic interaction chromatography behavior of integrin binding antibodies. In this new report, Jetha et al. optimized a candidate integrin α11-binding mAb for developability using molecular modeling, rational design, and hydrophobic interaction chromatography (HIC). A homology model of the parental mAb Fv region was built, and this revealed hydrophobic patches on the surface of the complementarity-determining region loops. A series of 97 variants of the residues primarily responsible for the hydrophobic patches were expressed and their HIC retention times (RT) were measured. As intended, many of the computationally designed variants reduced the HIC RT compared to the parental mAb, and mutating residues that contributed most to hydrophobic patches had the greatest effect on HIC RT. A retrospective analysis was then performed where 3-dimentional protein property descriptors were evaluated for their ability to predict HIC RT using the current series of mAbs. The same descriptors were used to train a simple multi-parameter protein quantitative structure-property relationship model on this data, producing an improved correlation. This analysis was extended to recently published HIC data for 137 clinical mAb candidates as well as 31 adnectin variants, and the authors found that the surface area of hydrophobic patches averaged over a molecular dynamics sample consistently correlated to the experimental data across a diverse set of biotherapeutics.
Heterologous recombinant expression of non-originator NISTmAb. Kashi et al. describe the development and initial expression of an intended copy of the NISTmAb using three non-originator murine cell lines. The authors found that, without optimization and in culture flasks, all three cell lines produce approximately 100 mg mAb per liter of culture. SDS-PAGE, SEC, NMR spectroscopy, intact MS, and SPR were used to demonstrate that the products of all three cell lines embody quality attributes with a sufficient degree of sameness to the NISTmAb Reference Material 8671 to warrant further bioreactor studies, process improvements and optimization. The implications of the work with regard to pre-competitive innovation to support process design and feedback control, comparability and biosimilarity assessments, and process analytical technologies are discussed.
Like this post but not a member?
We encourage you to join the Society to take advantage of the substantial benefits of membership, including discounts on fees for selected KNect365, CHI, and Hanson Wade meetings, discounted subscriptions to Society-affiliated journals PEDS and mAbs (special subscription rate of US $84 online only access for Antibody Society members)  and access to information in the Members Only section of the website. In particular, we encourage members to take advantage of the discount on registration for Antibody Engineering & Therapeutics, which is the annual meeting of The Antibody Society traditionally held in San Diego in December. Membership is free for students, post-docs and employees of our corporate sponsors!