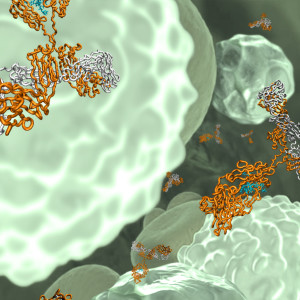 Please join us at the Society's annual meeting, Antibody Engineering & Therapeutics, on December 11-15, 2017 at the Manchester Grand Hyatt, San Diego, CA! On Friday, December 15, Paul W.H.I. Parren, Ph.D., Professor, Department of Immunohematology and Blood Transfusion, Leiden University Medical Center, and William R. Strohl, Ph.D., President of BiStro Biotech Consulting, LLC, are co-chairing a session on Innovating Antibody Therapeutics.
In today's highly competitive therapeutic antibody environment, continued innovation is key to success.  This session highlights a number of innovative approaches to antibody discovery, engineering, and analysis.  The first presentation, given by Chris Bailey-Kellogg, Ph.D., Professor of Computer Science, Dartmouth University, explores the use of a method called EpiScope which combines a sophisticated computer algorithm with experimental binding assays on a limited number of antigenic variants to determine the epitopes to which antibodies bind.  Using both prospective and retrospective analyses, EpiScope was able to determine the epitopes in the majority of examples tested.  The second presentation, given by Mats Ohlin, Ph.D. and Professor, Department of Immunotechnology & SciLifeLab at Lund University, will demonstrate how antibodies from different germlines may evolve through divergent pathways based on preferred evolution patterns.  Kevin Hollevoet, Ph.D., Group Leader and Postdoctoral Fellow, Therapeutic and Diagnostic Antibodies, University of Leuven, Belgium, will describe the highly innovative and forward-thinking use of gene therapy approaches for the delivery of antibodies.  This is a new area that is now being pursued by several groups and offers novel approaches to solving antibody delivery issues, especially in cases where multiple antibodies or chronic high dosing schedules are required.  Karthik Viswanathan, Ph.D., Director of Research at Visterra, Inc., then will show how the use of a novel approach to modulating the interaction of IgGs with FcRn can result in increasing half-life while retaining robust structural stability and Fc receptor interactions.  Natalie Castellana, Ph.D., Chief Executive Officer of Digital Proteomics LLC, will show how a proteogenomic approach using deep sequencing and mass spectrometry can yield a unique picture of the serum immune repertoire.  Finally, William R. (Bill) Strohl will give an overview of current technologies being used in clinical stage antibodies and will tie those data together with highlights of the meeting to present a picture of the current and future state of innovative antibody therapeutics.
Interested in attending the meeting? Society members can save 15% on the registration fee! Contact us at membership@antibodysociety.org for the code.
Not a member? Please join!
Membership is free for students and employees of the Society's corporate sponsors.