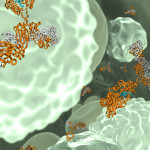 On December 21, 2018, the US Food and Drug Administration approved Ultomiris (ravulizumab) injection for the treatment of adult patients with paroxysmal nocturnal hemoglobinuria (PNH), a rare and life-threatening blood disease characterized by hemolysis of red blood cells mediated by the complement system. Developed by Alexion Pharmaceuticals, ravulizumab is a humanized mAb that inhibits complement component 5 (C5). The biologics license application for ravulizumab received a Priority Review designation. In a Phase 3 study, ravulizumab demonstrated non-inferiority to Soliris® (anti-C5 eculizumab) in complement-inhibitor treatment-naïve patients with PNH. Also developed by Alexion Pharmaceuticals, Soliris® was first approved for PNH in 2007. Ravulizumab is also undergoing regulatory review in the EU. It was granted Orphan Drug designation in both the US and EU for the treatment of patients with PNH.
Like this post but not a member? Please join!
The Antibody Society maintains a comprehensive table of approved mAb therapeutics and those in regulatory review in the EU or US. As of December 21, a total of 13 antibody therapeutics had been granted first approvals in either the US or EU in 2018, and marketing applications for another 3 that have not yet been approved in either the EU or US are undergoing review in these regions. Please log in to access the table in Excel format, located in the Members Only section.