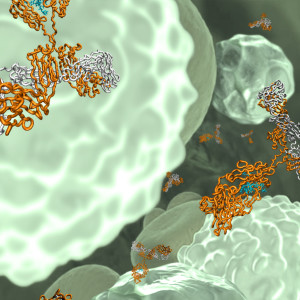 On August 23, 2018, the U.S. Food and Drug Administration (FDA) approved TAKHZYRO injection for prophylaxis to prevent attacks of hereditary angioedema (HAE) in patients 12 years of age and older. This rare, genetic, and potentially life-threatening disorder can result in recurrent attacks of severe swelling in various parts of the body, including the throat. HAE affects people with low levels of, or poorly functioning, C1 esterase inhibitor proteins, which function by inhibiting plasma kallikrein and preventing spontaneous activation of the complement system. TAKHZYRO is a human monoclonal antibody (mAb) that targets plasma kallikrein, and thereby helps prevent attacks of edema.
FDA's approval of TAKHZYRO was based in part on data from a multicenter, randomized, double-blind, placebo-controlled, parallel-group, Phase 3 study (NCT02586805) that included 125 patients with HAE. In this study, TAKHZYRO reduced the number of monthly HAE attacks an average of 87% (n=27) or 73% (n=29) vs. placebo (n=41) when administered subcutaneously at 300 mg every two weeks or at 300 mg every four weeks, respectively (adjusted P<0.001). The FDA had previously granted TAKHZYRO Breakthrough Therapy and Orphan Drug designations. The biologics license application for the drug was granted a priority review.
The Antibody Society maintains a comprehensive table of approved mAb therapeutics and those in regulatory review in the EU or US. As of Aug 23, a total of 6 antibody therapeutics had been granted first approvals in either the US or EU in 2018, and marketing applications for another 10 that have not yet been approved in either the EU or US are undergoing review in these regions. Please log in to access the table in either PDF or Excel formats, located in the Members Only section.
Like this post but not a member? Please join!