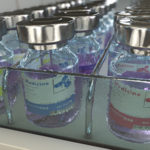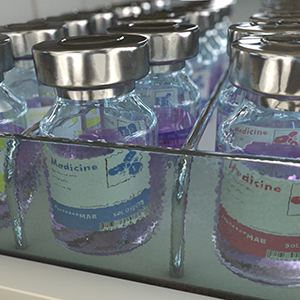 On October 7, 2019, the US Food and Drug Administration (FDA) approved brolucizumab-dbll (BEOVU®) for the treatment of neovascular age-related macular degeneration (nAMD). Brolucizumab is a humanized antibody single-chain variable fragment that binds to the 3 major isoforms of human vascular endothelial growth factor (VEGF), thereby interfering with their interaction with receptors VEGFR-1 and VEGFR-2 and suppressing endothelial cell proliferation, neovascularization and vascular permeability. BEOVU is administered by intravitreal injection, and the recommended dose is 6 mg monthly for the first three doses, followed by one dose of 6 mg every 8-12 weeks. A marketing application for brolucizumab is undergoing review by EMA.
FDA's approval was based on data from two Phase 3 studies, HAWK (NCT02307682) and HARRIER (NCT02434328), comparing the efficacy and safety of intravitreal injections of brolucizumab versus aflibercept in nAMD. Brolucizumab met the primary efficacy endpoint of non-inferiority to aflibercept (EYLEA®) in mean change in best-corrected visual acuity (BCVA) at week 48 in both trials, with a mean change in BCVA of 6.6 letters for brolucizumab 6 mg versus 6.8 letters for aflibercept in HAWK trial and 6.9 letters versus 7.6 letters, respectively, in the HARRIER study. Additionally, at week 48, brolucizumab was superior to aflibercept in secondary endpoints considered key parameters of the disease, such as central subfield retinal thickness and retinal fluid (intraretinal fluid and/or subretinal fluid). Results at 96 weeks reaffirmed the superiority of brolucizumab 6 mg in reduction of retinal fluid, and patients who received this dose continued to demonstrate reductions in central subfield thickness.
Like this post but not a member? Please join!
The Antibody Society maintains a comprehensive table of approved monoclonal antibody therapeutics and those in regulatory review in the EU or US. Located in the 'Web Resources' section of our website, the list is updated regularly and can be downloaded in Excel format.