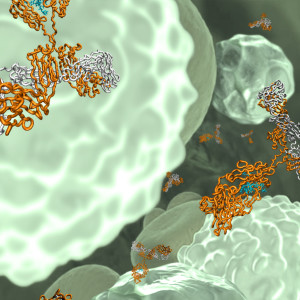 The story of the neonatal Fc receptor (FcRn) started as a hypothesis made by F. W. Rogers Brambell more than half a century ago, when he predicted the existence of a saturable receptor responsible for protecting IgG molecules from degradation and the same or a similar system involved in IgG transport from mother to newborns. After its initial identification in neonatal rat intestine, FcRn indeed turned out to be the receptor responsible for these functions, but its further roles in albumin homeostasis and antigen presentation were also subsequently discovered (1-6).
While these properties have been widely exploited in the development of therapeutic and diagnostic reagents, the possible functions of FcRn are even broader. For example, further investigation of the immune functions of FcRn has revealed a role in anti-tumor responses. Intestinal dendritic cells expressing FcRn were shown to cross-present antigen derived from immune complexes, thereby activating tumor-specific T cells and eliciting immunity against colorectal cancer (7). More recently, it was also demonstrated that the presence of FcRn-expressing immune cells (macrophages and dendritic cells) in tumor samples was associated with a better prognosis in non-small cell lung cancer patients (8). A role for FcRn in cellular metabolism through its ability to recycle albumin has also been recently described. Specifically, low FcRn levels in tumor cell lines were associated with intracellular albumin accumulation and growth increase of tumor xenografts, whereas enforced expression of FcRn had the reverse effect (9). Despite these new results, FcRn likely has even more interesting features waiting to be revealed by enterprising scientists.

1, Rath et al, J Clin Immunol. 2013 Jan;33 Suppl 1:S9-17.
2, Challa et al, Curr Top Microbiol Immunol. 2014;382:249-72.
3, Sand et al, Front Immunol. 2015 Jan 26;5:682.
4, Pyzik et al, J Immunol. 2015 May 15;194(10):4595-603.
5, Stapleton et al, Immunol Rev. 2015 Nov;268(1):253-68.
6, Cervenak et al, Immunol Rev. 2015 Nov;268(1):269-87.
7, Baker et al, Immunity. 2013 Dec 12;39(6):1095-107.
8, Dalloneau et al, Oncotarget. 2016 Aug 23;7(34):54415-54429.
9, Swiercz et al, Oncotarget. 2017 Jan 10;8(2):3528-3541.