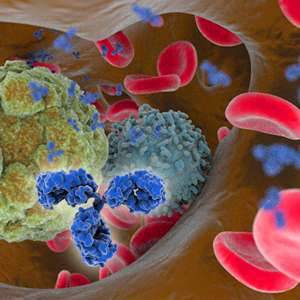 Please join us at the Society's annual meeting, Antibody Engineering & Therapeutics, on December 11-15, 2017 at the Manchester Grand Hyatt, San Diego, CA! In this summary, session organizers Trudi Veldman (Senior Director Biologics, AbbVie Bioresearch Center) and Chung-Ming Hsieh (Executive Director, Biologics Discovery Boston, Merck & Co.) discuss what you will learn at their session 'Biological Impact of Fc Receptor Engagement', which will be chaired by Chung-Ming Hsieh on Thursday December 14.
Antibodies are both binding proteins to their cognate targets and bridging molecules to downstream biological pathways via interaction with the various Fc receptors (e.g., FcγR and FcRn), complement, and lectins.  While our efforts in understanding the biology of therapeutic antibodies are often initially focused on the variable domain and target engagement, e.g., binding kinetics, potency, epitopes, it is crucial that we also gain understanding of the biology of the constant region of a therapeutic antibody and its impact on efficacy and safety.
This session aims to strengthen our current understandings on the biological impact of Fc receptor engagement.  The first presentation by Kenta Haraya (Chugai) will discuss the generation and characterization of a novel IgG1 Fc variant with optimized binding to FcRn that does not have increased binding by rheumatoid factors.  This Fc variant has been incorporated into a recycling antibody being developed for complement-mediated diseases.
The next three presentations will focus on the impact of FcγR engagement on antitumor activities of protein therapeutics.  Rony Dahan (Rockefeller) will present the finding that the antitumor activity of a human CD40 agonistic antibody is dependent on FcγRIIb engagement and is inhibited by FcγRIIa engagement, highlighting the importance of Fc domain optimization for improved efficacy.  Moving beyond antibodies, Daniel Christ (Garvan Institute of Medical Research) will present data indicating that the potent antitumor activity of interleukin-2-Fc fusion protein requires Fc-mediated depletion of regulatory T-cells.  Lastly, Frederick Arce Vargas (University College London Cancer Institute) will present the depletion of tumor-infiltrating regulatory T cells by an Fc-optimized anti-CD25 in synergy with PD-1 blockade to eradicate established tumors.
The field also continues to make progress in engineering Fc for modulating antibody effector functions, FcγR or complement engagement, and circulating half-life.  To this end, James Ernst (Genentech) will present effector function-attenuating mutations that maintain antibody stability and reduce toxicity.  George Georgiou (University of Texas at Austin) will present a set of novel engineered Fcs for half-life extension and for highly selective engagement of a single FcγR or C1q.
The full agenda for the meeting can be found here.
Interested in attending the meeting? Society members can save 15% on the registration fee!
Not a member? Please join!
Membership is free for students and employees of the Society's corporate sponsors.