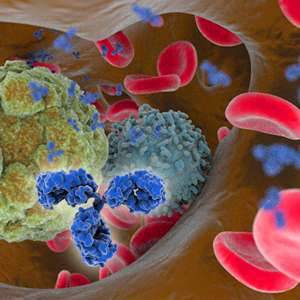 On March 23, 2017, avelumab (Bavencio), an anti-PD-L1 human IgG1 mAb, was approved by the Food and Drug Administration (FDA) for treatment of adults and pediatric patients 12 years and older with metastatic Merkel cell carcinoma, which is a rare form of skin cancer. Avelumab was granted an accelerated approval, which FDA can grant for drugs for serious conditions to fill an unmet medical need using clinical trial data that is thought to predict a clinical benefit to patients. Under such an approval, additional clinical trials are required to confirm the clinical benefit. The biologics license application was granted Priority review and Breakthrough Therapy designation by FDA. Avelumab was granted a US orphan drug designation for Merkel cell carcinoma, which is diagnosed in ~ 1,600 people in the US every year. A marketing application for avelumab is undergoing evaluation by the European Medicines Agency, which also granted avelumab an orphan drug designation. The marketing applications for avelumab are based on data from the Phase 2 JAVELIN Merkel 200 study (NCT02155647), which demonstrated meaningful tumor responses in patients with metastatic disease that progressed after prior chemotherapy. Avelumab is also undergoing evaluation in Phase 3 studies of patients with other types of cancers, including non-small cell lung, renal cell, ovarian, gastric, breast and urothelial cancers.
The Antibody Society maintains a comprehensive table of approved antibody therapeutics and those in regulatory review in the EU or US. As of March 23, 2017, marketing applications for a total of 11 antibody therapeutics that have not been approved in any country are undergoing review in the EU or US. In addition, marketing applications for sarilumab, which is approved in Canada, and gemtuzumab ozogamicin, which was FDA approved in 2000 and subsequently withdrawn from the US market, are undergoing review in the EU and US.
Please log in to access the table, located in the Members Only section.
Not a member? Please join!
Membership is free for students and employees of the Society's corporate sponsors.