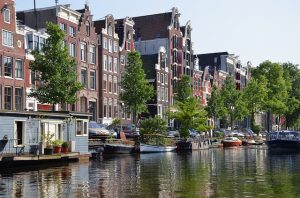 Antibody Engineering & Therapeutics Europe
June 11-13, 2019
Postillion Hotel Amsterdam, the Netherlands
Join us for The Antibody Society's 2nd annual Antibody Engineering & Therapeutics Europe meeting, where you will connect with industry and academic scientists and executives from Europe and around the world focused on antibody and protein therapeutic discovery and development.
Keynote speakers Jane Osbourn, Ph.D., (Vice President R&D and Site Leader of Medimmune) will discuss  antibody therapeutic developments, pipeline and progress at Medimmune and Hans Clevers, M.D., Ph.D., (Group Leader, Hubrecht Institute for Developmental Biology and Stem Cell Research and Professor of Molecular Genetics, University Medical Center Utrecht and Utrecht University) will discuss Lgr5 stem cell-based organoids and their applications in cancer research. In addition, the meeting features sessions on Turning Antibody Leads into Drugs, Recent Advances in Immuno-Oncology Approaches, Bioinformatics and Repertoires in Antibody Discovery and Development, Antibody Therapeutics for Autoimmune and Neurodegenerative Diseases, Clinical Developments in Antibody Therapeutics, and New Antibody Formats and Effector Functions.
The preliminary agenda can be downloaded here.
Society members save 15% on the registration fee when using the code Antibody15!
---
2018


The Society's inaugural Antibody Engineering & Therapeutics Europe meeting was held June 5-7, 2018, in Amsterdam. Members of the Society served as the Scientific Advisors and session Chairs. The meeting featured:
2 Half-Day Workshops
The Nuts and Bolts of Antibodies, moderated by Mahendra Deonarain, Ph.D., Chief Executive and Science Officer, Antikor Biopharma Ltd., United Kingdom
CAR-T & anti-CD3-based Bispecifics, moderated by Kerry A. Chester, Ph.D., Professor of Molecular Medicine, UCL Cancer Institute, University College London and President of The Antibody Society, United Kingdom and David Gilham, Ph.D., Vice President of Research and Development, Celyad S.A., Belgium.
4 Keynote Presentations
Frontiers of Immunotherapy, Clive R. Wood, Ph.D., Corporate Senior Vice President, Global Head of Discovery Research, Boehringer Ingelheim, Germany
T cell Recognition in Human Cancer, Ton N. Schumacher, Ph.D., Professor of Immunotechnology, Leiden University and Principal Investigator, The Netherlands Cancer Institute, The Netherlands
How Antibodies Trigger Cytotoxicity, Paul W.H.I. Parren, Ph.D., Professor, Department of Immunohematology and Blood Transfusion, Leiden University Medical Center, Sparring Biologics B.V., The Netherlands, and The Antibody Society Board of Directors member
Microbiome and Checkpoint Inhibitors in Immuno-Oncology, Laurence Zitvogel, M.D., Ph.D., Scientific Director, Gustave Roussy Cancer Centre, France
6 Concurrent Tracks
Intractable Targets/ Antibody Discovery Technologies
Bioinformatics / Repertoire
Antibody Effector Functions and Novel Formats
Novel Antibody-based Therapeutics for Cancer & Immuno-oncology
Antibodies Alternative Delivery/Vaccines
New Antibody Therapeutics in Inflammatory & Infectious Diseases
We look forward to seeing you at Antibody Engineering & Therapeutics Europe in 2019!